Recreation Programs - Total Cumulative Participation
Desired Result:

Above Target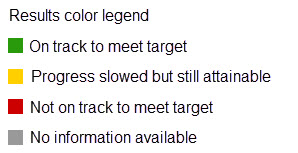 Analysis of Performance
Facilities continued reduced hours of operation during this time in order to conserve budget, limiting the availability of use by customers. Program offerings are more limited than normal to balance demand, while each month shows progress in gaining participation.
Recreation continues to adjust to community needs as recovery from the pandemic continues. Programs will be added as demand increases, and financial recovery allows.
Metric Definition
The total number of participants in Recreation programs, events and facility visits.
Why Is This Important?
This metric provides an indication of the diversity and popularity of our Recreation programs.  Offering a wide range of popular programs is a hallmark of successful operation.
City Organization Impact on Performance
High – Recreation influences participation by offering a variety of diverse programs that appeal to the community while reflecting the community's demographics. Recreation also influences participation numbers through marketing and community outreach. Recreation directly influences the amount of programs by determining the recreational needs of the community and developing programs that appeal to the community.
Benchmark Information
Benchmarking in progress