Recreation Programs - Total Cumulative Participation
Desired Result:

Above Target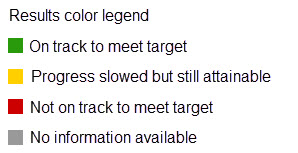 Analysis of Performance
Participation for the quarter was higher than the Q3 target, however the three quarters combined are shy of the total cumulative target. Factors affecting total participation include:
Drop-in numbers slowed with the fee increase in daily drop-in rates at the first of the year.
Riverside bridge replacement during Q1 caused inconvenience to customers trying to reach EPIC.
Mulberry Pool was closed during most of May for emergency maintenance and repairs.
Cold, wet weather and storm closures throughout the summer affected City Park Pool participation.
EPIC experienced a 2 week complete shutdown in August for electrical maintenance.
Northside Aztlan Community Center was affected by Willow Street construction and access.
Activity enrollments have increased, helping to compensate for the lower drop-in numbers. We anticipate a re-bound in drop-in numbers following the maintenance closures and once road construction projects are completed.
Metric Definition
The total number of participants in Recreation programs, events and facility visits.
Why Is This Important?
This metric provides an indication of the diversity and popularity of our Recreation programs.  Offering a wide range of popular programs is a hallmark of successful operation.
City Organization Impact on Performance
High – Recreation influences participation by offering a variety of diverse programs that appeal to the community while reflecting the community's demographics. Recreation also influences participation numbers through marketing and community outreach. Recreation directly influences the amount of programs by determining the recreational needs of the community and developing programs that appeal to the community.
Benchmark Information
Benchmarking in progress