Recreation Programs - Total Cumulative Participation
Desired Result:

Above Target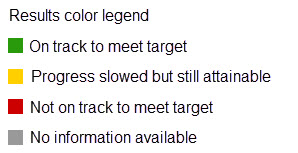 Analysis of Performance
Recreation facilities opened on very limited schedules during this period, controlling number of participants in facilities and practicing social distance with scheduled disinfecting protocols. Several activities were eliminated due to budget restraints. Summer mass registration for activities was cancelled, with limited offerings available for on-line enrollments. The pandemic caused City Park Pool, Senior Center Pool, and Mulberry Pool to be closed throughout this period, greatly impacting targeted participation numbers. Northside Aztlan Community Center, Recreation's primary fitness and gym facility, did not open until late July.
The Recreation Department will continue to explore creative ways of engaging the community in healthy activities and serving the needs of multiple user groups, while encompassing federal, state, and local safety guidelines.
As pandemic restrictions change or economic factors demand, the Recreation Department will respond to any needed adjustments to increase or decrease services appropriately.
Metric Definition
The total number of participants in Recreation programs, events and facility visits.
Why Is This Important?
This metric provides an indication of the diversity and popularity of our Recreation programs.  Offering a wide range of popular programs is a hallmark of successful operation.
City Organization Impact on Performance
High – Recreation influences participation by offering a variety of diverse programs that appeal to the community while reflecting the community's demographics. Recreation also influences participation numbers through marketing and community outreach. Recreation directly influences the amount of programs by determining the recreational needs of the community and developing programs that appeal to the community.
Benchmark Information
Benchmarking in progress