Recreation Programs - Total Cumulative Participation
Desired Result:

Above Target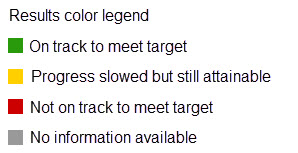 Analysis of Performance
Participation in Q3 exceeded the quarterly target, however due to the impacts in Q1 from the pandemic the year to date cumulative total remains below the targeted amount. Participation in Q3 was boosted by favorable weather and visitation numbers at City Park Pool.
Enrollments in activities and facility pass sales grow stronger each month and indicate that participants are ready to engage. Staffing vacancies continue to be a challenge in being able to offer a full schedule of activities.
Metric Definition
The total number of participants in Recreation programs, events and facility visits.
Why Is This Important?
This metric provides an indication of the diversity and popularity of our Recreation programs.  Offering a wide range of popular programs is a hallmark of successful operation.
City Organization Impact on Performance
High – Recreation influences participation by offering a variety of diverse programs that appeal to the community while reflecting the community's demographics. Recreation also influences participation numbers through marketing and community outreach. Recreation directly influences the amount of programs by determining the recreational needs of the community and developing programs that appeal to the community.
Benchmark Information
Benchmarking in progress