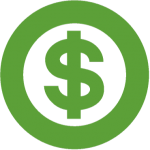 Economic Health Performance Metrics
Percentage of vacant, leasable commercial space within the city. This is divided into three categories: Industrial, Office, and Retail. The category with the worst vacancy rate is displayed and that is the value compared to our target.
Cumulative New Residential Permit Unit Volume
As of January 2017, this data is no longer collected in a standardized way through the US Census Bureau. EHO is considering other sources of this data, but as of Feb. 2017, no substitutes have been identified.