Gardens on Spring Creek - Total Cumulative Participation
Desired Result:

Above Target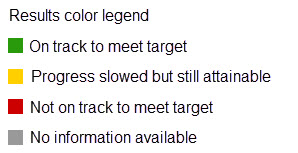 Analysis of Performance
Due to construction of the Visitor's Center expansion project, the Gardens on Spring Creek was fully closed through March 31st. A partial opening of the new garden expansion began in April, but no programming has occurred on site. The Gardens does not have a way to track visitation during this partial opening. The Gardens is expected to fully open November 16, 2019.
Metric Definition
The total number of participants at the Gardens on Spring Creek.
Why Is This Important?
This metric provides an indication of the popularity of these facilities which, in turn, indicates how well the facilities are meeting the needs of the community.
City Organization Impact on Performance
High – The Parks Department directly influences the number of particpants by providing a quality experience at the Gardens on Spring Creek. The Parks Department also influences particpation through marketing and outreach of these facilites.
Benchmark Information
Benchmarking in progress