Voluntary Code Compliance
Desired Result:

Above Target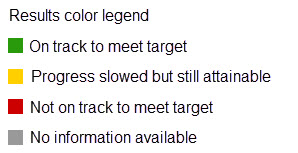 Analysis of Performance
Snow accumulation is addressed with a shorter timeline to correct than the majority of the Code sections that Code Inspectors manage. Because snow/ice accumulation is an immediate safety issue, it is one of the Codes that does not have the typical 7-day notification, re-inspection, courtesy door posting, and then a possible abatement; and also an opportunity for the residents to work directly with the Code Compliance Inspector specifically for a time extension to correct the issue.

OMAPS reporting period from Jan. 1st, 2023 throgh to Feb. 14th, 2023
The numbers were up for snow, plus lower number of overall cases, makes the percentage higher. It is typical that in Q1, we are either in the yellow or red. This is normal, because of the safety issue we have a quick turn around on abatements and less time for voluntary compliance.
Metric Definition
This metric tracks the percentage of voluntary compliance with nuisance code violations issued by the City of Fort Collins. Voluntary compliance is defined as violations corrected by the property owner or tenant.
Why Is This Important?
Code compliance contributes to the preservation, maintenance, and enhancement of neighborhoods. Voluntary compliance of nuisance codes is an indicator of the City's attractiveness and feeling of safety in neighborhoods. It is also an indication of whether a neighborhood is deteriorating and may need additional services.
City Organization Impact on Performance
High – The City affects the metric in the following ways: 1) violation notices sent to property owner and tenant explaining the violation and giving a deadline to correct the problem; 2) final notice – this is a posting on the door explaining that the deadline has come, what the violation is, and that they need to correct the violation by the next day in order to avoid abatement or citation; 3) encouragement of residents to call if they need an extension – our violation notices state that they should call us if they have a need for a little more time to correct the violation; 4) Adopt-a-Neighbor program – volunteer program to help elderly or disabled residents with shoveling their sidewalks; and 5) door hangers – for codes that do not require notice be given (i.e. sidewalk snow removal) – we provide a courtesy door hanger on the first offense explaining the code requirement and give them until the following day to correct the violation.
Benchmark Information
Benchmarking in process