# Business Establishments per Capita (Larimer County)
Desired Result:

Above Target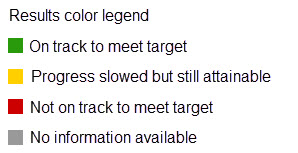 Analysis of Performance
Note: This metric is reported two quarters in arrears since the data takes 6 months to be reported by a third party agency; current performance is based on the results from the two quarters prior.
This metric is reported by the Federal Reserve Economic Data and has not been updated for Q1 2023, fourth quarter 2022 data is latest data available at this time.
Metric Definition
This metric provides an understanding of business and job growth in the City. The total number of business establishments in Larimer County is divided by the current Larimer County population to understand job and business growth relative to population changes. The data reported is 2 Quarters in arrears due to the timing of receipt from Larimer County.
Why Is This Important?
# Business Establishments per Capita measures business growth relative to population growth. If the number of businesses per capita increases, it indicates that economic growth is is serving more than the community.
City Organization Impact on Performance
Medium – The activities of the Economic Health Office directly relate to business expansion and retention, however, the City does not focus on business attraction.
Benchmark Information
We are looking at other Front Range cities and some peer city data to see if these benchmarks gives an indication of how well the City is competing to capture the value in this market.