Desired Result:

Below Target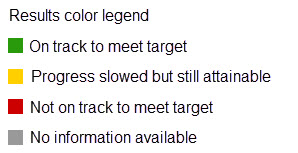 Analysis of Performance
This is a quarterly measure - data is available through 3Q2021.
All vacancy rates have ticked up since May 2020 as a result of the COVID pandemic, although retail vacancy rates seem to be rebounding as of June 2021 and is currently under 5%.
Office vacancy rate:

It will take at least five years for office-using companies in the United States to demand enough office space to push rents to pre-pandemic levels, with more short-term pain for office owners on the horizon, according to projections by Moody's Analytics. "Though we expect the office sector will suffer more severely in 2021 than it did in 2020, the vaccine rollout brings hope for more in-person business later this year and into 2022," says Barbara Denham, senior commercial real estate economist at Moody's Analytics.
Industrial vacancy rate:

Because of the growth in e-commerce, vacancy rates for industrial properties are near an all-time low, while utilization is up and prices are at record levels.
In addition to the rapid change in consumer behavior, the pandemic also exposed the fragility of the global supply chain. Retailers responded by securing more storage space to mitigate the impact of future shocks, said James Koman, CEO of ElmTree Funds.
Vacancy rates in industrial buildings are near a record low and new warehouses can't get built quickly enough to meet the needs of clothing makers, furniture sellers and home appliance manufacturers.

Retail vacancy rate:

Lockdown restrictions implemented across the country to contain the spread of the coronavirus led to steep declines in physical retail sector traffic.
Shopper traffic to many enclosed malls, often situated in the suburbs, has dropped steadily over the years, with Americans spending more online. This pattern was only accelerated by the global health crisis.
Many vacant retail buildings could soon be repurposed as industrial properties. Demand for warehousing and flexible spaces has remained relatively high throughout the COVID-19 pandemic, and one reason for this is the sales growth of eCommerce platforms (Statista.com).
EHO continues to respond to requests for site selection information and has submitted properties for eight projects so far in 2021.
We will continue to monitor commercial vacancy rates, especially for office space, and will work with our regional partners as we move forward.
Metric Definition
Percentage of vacant, leasable commercial space within the city. This is divided into three categories: Industrial, Office, and Retail. The category with the worst vacancy rate is displayed and that is the value compared to our target.
Why Is This Important?
Commercial property use provides a measure of economic activity and economic capacity. As the vacancy rate drops additional commercial space may be necessary to capture economic activity.
City Organization Impact on Performance
Medium – The activities of the Economic Health Office directly relate to users of commercial space, but actual leasing activity is also influenced by other outside factors.
Benchmark Information
This metric contains no benchmark data because the purpose of this metric is to track economic trends within Fort Collins over time. The internal focus of this metric limits the value of benchmarks; historical comparisons to the City's past performance are more meaningful for this metric.