Desired Result:

Below Target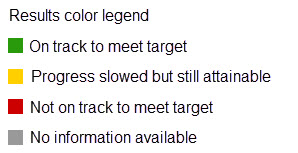 Analysis of Performance
This is a quarterly measure - data is available through 2Q2022.
All vacancy rates increased during the COVID-19 pandemic. As of December 2021, we are continuing to see decreases of all vacancies.
Office vacancy rate:

Global office vacancies are unlikely to return to their pre-COVID levels until 2025, research shows (Cushman & Wakefield, "Global office impact study & recovery timing report." - September 2020)
Industrial vacancy rate:

Because of the growth in e-commerce, vacancy rates for industrial properties are near an all-time low, while utilization is up and prices are at record levels.
In addition to the rapid change in consumer behavior, the pandemic also exposed the fragility of the global supply chain. Retailers responded by securing more storage space to mitigate the impact of future shocks, said James Koman, CEO of ElmTree Funds.
Vacancy rates in industrial buildings are near a record low and new warehouses can't get built quickly enough to meet the needs of clothing makers, furniture sellers and home appliance manufacturers.

Retail vacancy rate:

Retailers announced more openings than closings in the first quarter. Discounters like dollar stores are focusing on aggressive expansion over the next year.
Malls are continuing to evolve, especially through mixed-use developments.
Metric Definition
Percentage of vacant, leasable commercial space within the city. This is divided into three categories: Industrial, Office, and Retail. The category with the worst vacancy rate is displayed and that is the value compared to our target.
Why Is This Important?
Commercial property use provides a measure of economic activity and economic capacity. As the vacancy rate drops additional commercial space may be necessary to capture economic activity.
City Organization Impact on Performance
Medium – The activities of the Economic Health Office directly relate to users of commercial space, but actual leasing activity is also influenced by other outside factors.
Benchmark Information
This metric contains no benchmark data because the purpose of this metric is to track economic trends within Fort Collins over time. The internal focus of this metric limits the value of benchmarks; historical comparisons to the City's past performance are more meaningful for this metric.