Accuracy of Cumulative Budgeted Expenses ($ millions)
Desired Result:

Below Target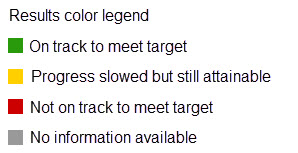 Analysis of Performance
Accuracy of Cumulative Budgeted Expenses is a quarterly measure that compares actual spending, in both governmental funds and utility funds, to budgeted expenditures. Meeting this target means that City spending was on track with expectations according to the budget. Falling below the target means that the City spent less than anticipated.
Governmental Funds
Community Services: Community Services overall positive variance of $5M is mostly driven by $2.6M timing of contracts, invoices, and expenses across all departments in purchased services and supplies and underspend due to usage of a grant for artist fees. $1.3M underspend in personnel due to classified vacancies and hourly hiring/retention issues. $0.4M under in capital outlay due to timing of parks projects.
Information & Employee Services: The underspend is primarily driven by $1.2M of Medical/Dental claims performance , $1.1M in ongoing maintenance projects, $994 in insurance premiums savings and timing of billing, $504 in budgeted equipment and building improvements that have not started, $521 in IT commitments for JDE renewal and infrastructure replacements.
Utilities Funds
Purchase Power: ($2.3M) over budget caused by weather and actual demand, including COVID event changes, are key factors on the spend.
Customer Service & Administration: $730K underspend for IT, primarily for computer hardware capital and personnel vacancies, $191K for the Executive Director's Office, due to consulting and software maintenance. $178K for Customer Accounts $178K due to personnel vacancies. $157K underspend for minor capital $157, such as vehicles and equipment.
Water: $1.8M underspend for Water Treatment caused by contract payment to other governments for Cameron Peak Fire watershed payments $413K for Water Engineering due to consulting services for large valve maintenance work and personnel vacancies. $380K for Water Resources primarily for consulting and personnel.
Metric Definition
This metric covers the accuracy and precision of planned (budgeted) and actual expenditures. Expenditures include operating costs, such as personnel, insurance, consulting and supplies, as well as debt payments and capital equipment purchases. Not included are the costs of large capital projects that occur over several years and have a beginning and end.
Expenditures are separated into Governmental and Enterprise. Governmental expenditures are for those activities that are primarily supported by taxes and grants and to a much lesser degree from fees. Examples are Police, Streets Maintenance, Parks, Museum, Fire, etc. Alternatively, Enterprise expenditures related to activities that are accounted for like a business and are entirely supported by fees charged to users. These include Light and Power, Water, Wastewater, Storm Drainage and Golf.
Why Is This Important?
Accuracy and precision in expense budgeting is very important to ensure the City can provide the full amount of programs and services citizens expect. Over estimating budgeting expenses takes money away from additional programs and services that could be provided to the community. The City strives to do a better job being accurate with our expense forecasts without going over the Council approved budget. The City is not allowed to go over budget according to statutory law.
City Organization Impact on Performance
High – The City has direct control over the amounts it forecasts and how much it actually spends. Historical analysis of actual spending to budgeted spending should allow the City to improve the accuracy of its budgeting.
Benchmark Information
This metric contains no benchmark data because the target for this metric is not influenced by the performance of other cities. External reference points would add no value to the data because the City's goal is always to be as accurate as possible with its own budgeted expenses. The evaluation criteria for this metric was revised so that Green performance is between 96-100% of the target, Yellow performance is between 93-96% of the target and Red performance is below 93% of the target.