Accuracy of Cumulative Budgeted Expenses ($ millions)
Desired Result:

Above Target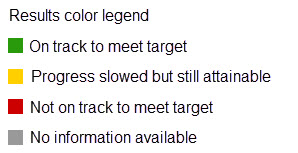 Analysis of Performance
Governmental:
Police: Underspend is caused by vacancies across the agency for $816k and underspend on OT of $92k. Timing variances for computer software $92k, and $76k for computer hardware. $81k of equipment has not yet been purchased. Note that fuel is currently $20k over budget, and this is expected to stay over budget.
Community Services: Community Services overall positive balance is due mostly to $1.8M underspend in personnel costs due to timing of hourly hires, vacancies, and frozen positions; $2.0M in Purchased Property Services – timing of payments and contracts primarily in Cultural Services and Natural Areas; $0.9M in Purchased Prof & Tech – timing of invoices and artist payments throughout Community Services.
PDT: $2.4M in personnel due to frozen/vacant positions ($2.4M in personnel offset by $425k hiring freeze for net of $2M). $1.4M in Streets/traffic maintenance work due to timing of invoices & weather delays. $793k in fuel and vehicle maintenance due to running reduced routes in Transfort and fewer repairs in other areas/timing of repairs in other areas. $586k due to billable projects delayed or cancelled due to weather or budget constraints. $320k in building and land maintenance due to timing of invoices
IES: IES underspend is primarily tied to HR Benefits $3.3M in YTD Medical and Dental claims underspend with Fund balance still $1M to the good, $2M in encumbrances of Ops Services in-progress projects, maintenance, and planned capital projects, $819 in YTD Stop Loss premium savings from lasered claimants, $417 under CPIO for Ft. Collins Visitor's Bureau annual Lodging Tax disbursement, and $319 in YTD energy savings and timing of billing.
Sustainability: $1,225 timing variance for the URA Mall commitments. Estimated to be up to $500k under budget by year-end due to a reduction in the property tax last year for a property in the Mall URA. Currently, just behind of calendarized payment schedule. $620k variance for the Small Business Relief Fund administered through an agreement with the City and the County. We intentionally overestimated the allocation to ensure we would not have to go back later to change the appropriation. Any un-used appropriation may be frozen in October unless any changes from the State Legislature changing the program to let us use the balance differently. $157k timing variance for Economic Rebates. Behind calendarized schedule, will self-correct by year-end. $87k timing variance for seasonal overflow shelter. Contracts will be drafted and signed prior to year-end, self-correcting the variance. $80k timing variance for Disposable Bag Program. 2021 allocation was calendarized in May, expenses will vary and are pending through year-end. No year-end value, as appropriation was estimated. Actuals and revenue will balance year-end, netting in no savings
Utilities:
Light & Power - Energy Services $1,513 (Energy Services Program $1,218 (Consulting $751, Rebates & Incentives $298, mostly due to the timing of payments to vendors/partners and the pace of participation in programs). Community Renewables is under budget $161 mostly due to Conservation Incentives and the timing of solar installations. Demand Response is under budget by $134 mostly for Consulting Services due to the timing of vendor payments.) System Additions & Replacements $441 (Motor Vehicles under budget by $385, waiting on delivery of 2 vehicles but budget has come through for 3 total, Consulting under budget by $201 this is reserved for costs related to the OASIS project; offset by Utility Supplies which are over budget $193, these supplies are for new construction and system capacity upgrades; construction activity has picked up as there are some large projects under construction.)
Purchase Power - Purchase Power-Tariff 1 $4,138 (weather and actual demand (COVID event changes) for the year are key factors on the spend in Tariff 1 from PRPA).
Water - Water Treatment $2,322 (Contract Pmt to Govt/Other $1,564 (Cameron Peak Fire (CPF) Watershed budget distribution to actual spend), Construction Services $278 (CPF budget distribution to actual spend), Chemical Supplies $218, Other Prof. & Technical $73, offset by Personnel ($37)); Minor Capital $1,221 (Mech. & Heavy Equip $735, Computer Hardware $170 (Meter Test Bench replacement pending), Construction Contracts $179 (utilized as needed), Other Capital Outlay $79 ($112 encumbered for water filter material), offset by Building Improvements ($42)); Engineering $335 (Consulting Services $253 (primarily due to the timing of the Large Valve Maint. work vs original spend assumption) and Personnel $55); Water Conservation $253 (Prof & Tech $124 (WaterSmart software/reporting $116), Personnel $52 (primarily due to internal interim appointment impacts) and Rebates & Incentives $43).
Metric Definition
This metric covers the accuracy and precision of planned (budgeted) and actual expenditures. Expenditures include operating costs, such as personnel, insurance, consulting and supplies, as well as debt payments and capital equipment purchases. Not included are the costs of large capital projects that occur over several years and have a beginning and end.
Expenditures are separated into Governmental and Enterprise. Governmental expenditures are for those activities that are primarily supported by taxes and grants and to a much lesser degree from fees. Examples are Police, Streets Maintenance, Parks, Museum, Fire, etc. Alternatively, Enterprise expenditures related to activities that are accounted for like a business and are entirely supported by fees charged to users. These include Light and Power, Water, Wastewater, Storm Drainage and Golf.
Why Is This Important?
Accuracy and precision in expense budgeting is very important to ensure the City can provide the full amount of programs and services citizens expect. Over estimating budgeting expenses takes money away from additional programs and services that could be provided to the community. The City strives to do a better job being accurate with our expense forecasts without going over the Council approved budget. The City is not allowed to go over budget according to statutory law.
City Organization Impact on Performance
High – The City has direct control over the amounts it forecasts and how much it actually spends. Historical analysis of actual spending to budgeted spending should allow the City to improve the accuracy of its budgeting.
Benchmark Information
This metric contains no benchmark data because the target for this metric is not influenced by the performance of other cities. External reference points would add no value to the data because the City's goal is always to be as accurate as possible with its own budgeted expenses. The evaluation criteria for this metric was revised so that Green performance is between 96-100% of the target, Yellow performance is between 93-96% of the target and Red performance is below 93% of the target.