Desired Result:

Above Target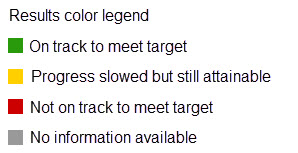 Analysis of Performance
Governmental:
Sales & Use Tax: ($4.6M) for Sales Tax and $261K for Use Tax. Continuing to closely monitor the sales tax environment to anticipate the degree of COVID pandemic impacts over the balance of the year. Anticipate to end the year under budget.
Property Tax: $1.2M for property tax and $826K for property tax increment finance. Higher realized tax receipts were primarily due to budgeted amounts that underestimated 2019 valuations (payable in 2020) and will be corrected for the 2021 budgeted year.
Culture, Parks, Rec & Nat A. Fees: ($3.5M) for lower recreation, gardens and Lincoln center ticket sales because of pandemic steaming from shut down order and reduced capacity now that facilities are open. Anticipate to end the year under budget.
General Government Fees: ($4.1M) for lower PPO and HDHP benefit contributions driven by lower premiums and prescribed budget revision in 2019 to reduce benefit expenses to services areas; this will be a year long underage. ($1.7M) for lower work for other fees and ($1.3M) for lower fuel costs.
Other Miscellaneous: ($930K) for timing on ASCSU contribution; ($662K) for lower building permit fees, ($500K) for lower red light camera fees caused by delays in anticipated build out ($498K) for lower lodging tax attributed to state shut down orders and slower recoveries from the pandemic.
Utilities:
Electric Charges for Services: Commercial Revenues are 9.3%, or $3.2M, under budget, followed by Industrial Revenues 10.0%, or $2.7M, under budget. Residential Revenues are 11.6%, or $4.7M, over budget.
Water Charges for Services: Residential Revenues are 12.1%, or $1,490, over budget. District Water Sales are 29.0%, or $333, over budget followed by Commercial/Industrial Revenues at 1.2%, or $93, over budget.
Wastewater Charges for Services: Commercial/Industrial Revenues are 11.7%, or $572, under budget offset by Residential Revenues are 2.1%, or $244, over budget.
Stormwater Charges for Services: Single Family Revenues are 3.1%, or $178, over budget, followed by Non-Single Family Revenues at 1.8%, or $128, over budget.
Unrealized Investment Gains/Losses: Water $474, Wastewater $256, Light and Power $193, Stormwater $147, and CS&A $13.
Development Fees/PIFs/Contributions: Water ($978), Wastewater ($216), Light and Power ($13), and Stormwater $180.
Other Miscellaneous: Light and Power ($441) (Warehouse Admin charges are lower than budget due to slow in capital and construction activities, along with Other Misc. revenues), CS&A ($66) (Locates A/R was accrued to 2019, wasn't historically, will correct in December if accrued again offset by other smaller revenues), and Wastewater $85 (Ranch income, Bad Debt Recovery).
September billed revenue is for August and early September. Efforts are underway to look at billing on a more granular level.
Metric Definition
This metric covers differences from anticipated (budgeted) and actual revenue. Revenue includes taxes, fees, grants, fines, interest earnings, etc. Revenue is separated into Governmental and Enterprise depending on the activity it supports. Governmental revenues are typically taxes, grants and fines used to support police, streets, museum, fire and parks. Examples of Enterprise revenue are fees for energy, water, wastewater and golfing.
Why Is This Important?
Accuracy to budgeted revenue is very important to ensure the City can cover its budgeted expenses while maintaining healthy fund balances. The City strives to do a better job being accurate with our revenue forecasts.
City Organization Impact on Performance
High – The City has direct control over its revenue forecasts. Historical analysis of actual revenue compared to budgeted revenue, along with a good understanding of the economic climate should allow the City to improve the accuracy of its revenue forecasts.
Benchmark Information
This metric contains no benchmark data because the target for this metric is not influenced by the performance of other cities. External reference points would add no value to the data because the City's goal is always to be as accurate as possible with its own budgeted revenues.