City Employee Cumulative Turnover Rate
Desired Result:

Below Target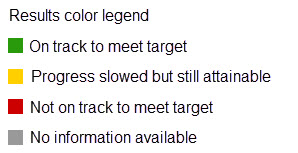 Analysis of Performance
This is a quarterly metric.
In Q3, turnover was 10.8%, with a target of 7.5%. This metric includes all turnover, including retirement, voluntary resignations, and terminations.
In Q3 of 2021, turnover was 9.13%, and we may surpass last year's double-digit turnover percentage.
In August, only 69.6% of people eligible to work in Colorado were participating in work. This matches February 2020 and November 2021 numbers, keeping the job market extremely tight.
When offered a position with the City our acceptance rate is 94.62%, and our target is 90%.
We are not immune to the national trends happening where talent is leaving organizations in all sectors in higher numbers—the pressures on pay, COVID-19, development opportunities, and flexible work models are increasing.
The Future of Work policies are active as of September 1, 2022. The research is clear employees want flexibility. The City is poised to respond to attract and retain talent.
Talent Development is offering monthly leadership sessions to upskill our leadership capability, especially in light of leading in a new environment, nurturing and developing talent is critical.
In our budget offer, we are asking to raise the minimum wage for City employees to $15 an hour. Additionally, we budgeted a 2.5% across-the-board adjustment for classified and unclassified management. The merit increase offer is 3.25%, up from 3.0% in 2021, and 0% in 2020.
The addition of three recruiters is not only helping to find passive talent, but also allows our leaders to focus on the candidate experience. The recruiters have taken some of the manual burdens off our hiring managers, which allows our managers time to lead their people well.
The City is offering new benefits for new parents. This is a move to not only provide care for our caregivers but to provide a strategic differentiator in the market.
Nationally, Human Resources is the function across all sectors with the highest turnover percentage; in the City, we have several new hires on the team and we are onboarding new talent to ensure we have the capability and capacity to anticipate and respond to the talent challenges.
Metric Definition
Turnover is a measure of the rate at which employees leave employment with the City. It includes classified and unclassified management employees and all separation reasons (layoffs, and voluntary and involuntary terminations). While turnover is typically measured annually, this report includes turnover reported on a year-to-date basis for each calendar year. The rate is calculated by dividing the total number of employees who separated year-to-date by the average headcount for that reporting period (quarters are cumulative).
Why Is This Important?
Turnover is an important measure for three primary reasons – cost (replacing an employee can cost as much as 200% of the annual compensation for the vacated position), business performance (continuity of operations, productivity) and ability to maintain a qualified workforce.
City Organization Impact on Performance
High – Turnover rate is directly related to the quality and continuity of service provided to citizens. The City is committed to being an employer of choice, however the rate at which employees leave City employment is impacted by factors such as job market, retirement, and personal lifestyle choices.
Benchmark Information
Benchmarking in progress