City Employee Safety - Days Away Restricted or Transferred (DART) Rate YTD
Desired Result:

Below Target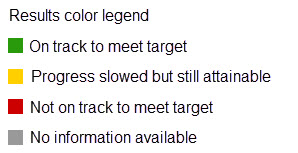 Analysis of Performance
Note: This historical data of this metric changes in subsequent time periods because injury data is tied to the date of injury regardless of when treatment occurs or the case changes from recordable to time away restricted, or transferred. For example, if an employee has an injury in March but he does not seek medical treatment until June, it will be captured on March's OSHA log and it will not show up on the June log. National benchmark data for any year is only available in September of the following year. There is an approximate 18 month lag time in current available national benchmark data from the Bureau of Labor Statistics.
Q3 his historically a high risk quarter for the City. This quarter our number of injuries that required days away, restrictions or transfer of job duties has been on par that with previous years, 369 injuries this quarter compared to 38 in Q3 last year. Below is the breakdown of the cause codes for these types of injuries. Miscellaneos causes included officers injured durring arrest of a person in an act of crime. These are seperated from injuries where employees are struck by falling or flying objects, or objects being handled by others. The yellow section also includes animal bites or insect stings which were still quite active late into the third quarter.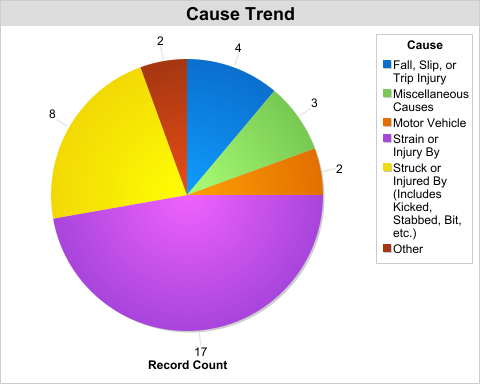 We are currently reviewing many of our heaviest job descriptions for new ways to reduce the risk associated with these jobs. We are also increasing our post-offer, pre-employement (POET) testing for all levels of jobs across the City to ensure that the candidates we hire are safe to perform the essential functions of the job.
Metric Definition
The Days Away Restricted or Transferred (DART) rate calculation is based upon the number of work related injuries and illnesses severe enough to cause an employee to be temporarily reassigned or miss work completely in relation to the total number of employee hours worked. This is a nationally recognized standard safety metric. Current-year benchmarks are not available as they are published by the Bureau of Labor Statistics and have an approximate 18 month lag time.
Why Is This Important?
DART rate is important because it is a nationally benchmarkeable measure widely accepted as representative of injury severity in the workplace.  It is important for the City to provide a safe workplace for all employees and the only way to achieve that is by driving a culture of proactive safety built on continuous improvement.  As safety efforts drive down injuries and injury severity, the costs associated with workers' compensation claims can be driven down as well.  The reduction of days away, restricted or transferred is directly related to reduction in lost productivity as well as lost efficiency because only workgroups that are whole can operate at optimal performance.
City Organization Impact on Performance
High – Reducing the DART rate requires the City to reduce the number of injuries that result in days away, restricted or transferred. Getting employees back to work quickly and efficiently following injuries enables to the City to spend less money on benefits used to keep employees who are off or on modified duty whole. Many studies have led to the well accepted fact that employees who return to work quickly following an injury rehab faster, better, and more completely than those who do not.  Driving down injuries that impact the DART rate requires workgroups to be engaged and to actively interact with injured workers to get them back to work as efficiently as medically possible.  This engagement in conjuction with other ongoing proactive safety efforts has concrete and continuous impact on improving the City's safety culture.
Benchmark Information
This metric contains General Industry and Public Entities benchmark data. The General Industry benchmark gives overall context to the City's performance, while the Public Entities benchmark allows for a closer comparison that accounts for the unique challenges that face local governments.