City Employee Safety - Total Recordable Injury Rate (TRIR) YTD
Desired Result:

Below Target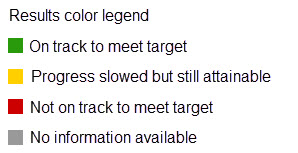 Analysis of Performance
Note: This historical data of this metric changes in subsequent time periods because injury data is tied to the date of injury regardless of when treatment occurs or the case changes from recordable to time away restricted, or transferred. For example, if an employee has an injury in March but he does not seek medical treatment until June, it will be captured on March's OSHA log and it will not show up on the June log. There is an approximate 18 month lag time in current available national benchmark data from the Bureau of Labor Statistics.
We have seen an increase in injuries over the last quarter and throughout the year. In addition to the rate of DART injuries increasing, we're also seeing a rise in severity, as evidenced by the number of cases that require missed work and/or surgical correction for the injury. There are several issues that we are investigating as contributing to this increase.
Understaffing in departments: A reduction in the workforce without an equivalent reduction in work is a well established driver of injuries in the work place. Some of the more severe injuries that have occurred this year have occurred in departments that have been understaffed.
Employee turnover: The turnover across the City means new employees who are learning both what the work is and how to do it. Research has shown that the majority of injuries that occur in businesses occur in employees with less than 6 months on the job. We anticipate that the City is experiencing the same trend.
Employee training: Turnover and hiring creates a demand for employees to start working as soon as possible. This can lead to little or no training on equipment and systems. SRM has also had staffing issues, which has strained our ability to provide safety training. Discussions with departments indicate that they are having the same struggle to provide appropriate training and oversight to new employees.
Employees not reporting injury at the time of the event. This can delay care, which can cause an injury to worsen, especially if the employee continues to work with the untreated injury.
There have been several very severe injuries that were in a solo work environment (employee was working alone). We have been investigating those cases to see if that was a factor in the injury and/or severity. Recommendations have been made in several cases to eliminate solo work situations.
Work closely with departments to ensure adequate training. Special focus will be on departments with low staffing and/or high number of new employees. A critical piece of any safety training is ensuring:

Employees know that they can stop work when they feel that the work is not safe.
Employees know to report their injuries in a timely manner which allows for review of a possibly unsafe condition and remediation of hazard
Employees have access to PPE and know how to use it
Managers keep safety at the forefront of discussions
Managers have employees report injuries, do their injury report follow up in a thoughtful and detailed manner

Review of injuries and near misses with department leadership in a timely manner
Greater discussion throughout the City of safety concerns and injury trends
Encourage discussions at all levels of the City about workload and the ability to perform that work safely
Continue timely communication between an injured employee and City Occupational Health Nurse. This gets the employee their resources quickly, which allows for treatment at the time of the injury. This level of care has been shown to help reduce the severity of injuries by treating promptly and preventing additional injury.
More outreach from the Occupational Health Nurse and Workers Compensation Specialist to departments.
Metric Definition
The Total Recordable Injury Rate (TRIR) is a nationally recognized standard safety metric. It is based upon the total number of work related injury and illness cases reported that, generally speaking, required more than standard first aid treatment, as it relates to the total number of employee hours worked. Current-year benchmarks are not available as they are published by the Bureau of Labor Statistics and have an approximate 18 month lag time.
Why Is This Important?
The Total Recordable Injury Rate (TRIR) is important because it is a nationally benchmarkeable measure that allows us to track injury frequency trends over time.  It is important for the City to provide a safe workplace for all employees and the only way to achieve that is by driving a culture of proactive safety built on continuous improvement.  As safety efforts drive down injuries, the costs associated with workers' compensation claims can be driven down as well.  While the TRIR is a lagging indicator, it is valuable as a symptom of the effectiveness of our proactive injury prevention efforts.
City Organization Impact on Performance
High – Reducing the TRIR rate requires the City to reduce the number of injuries that are sustained in any given year. Driving down injuries requires workgroups to actively work to identify and mitigate injury causes.  We are seeing more employee involvement throughout the City now than at any point in the past through sharing of best practices and lessons learned, excellent active safety meeting attendance, new safety teams being launched, and safety team members being called on more than ever by their workgroups to help spearhead safety improvements. 
Benchmark Information
This metric contains General Industry and Public Entities benchmark data. The General Industry benchmark gives overall context to the City's performance, while the Public Entities benchmark allows for a closer comparison that accounts for the unique challenges that face local governments.