City of Fort Collins Community Performance Measurement Dashboard
Welcome to the City of Fort Collins Community Dashboard, a quarterly snapshot of the community's progress in attaining key outcomes. This Dashboard reinforces the City of Fort Collins' steadfast commitment to accountability and continuous improvement. Within the last decade, our organization has undergone transformational change. We've deliberately moved toward an open, data-driven organization focused on results. Through this Community Dashboard and other performance measurement initiatives we are tracking and reporting our overall progress toward community goals. We will continue our commitment to creating a vibrant, world-class community.
2019 Changes: After originally publishing our Community Dashboard in 2013, it has been modified every other year. Those improvements typically entail either replacing or modifying existing metrics to be more meaningful. Click here to see the details of the changes to the 2019 Community Dashboard.
Sincerely,
Darin Atteberry
City Manager
Outcomes and Measures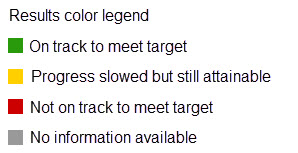 Outcome
(Last updated: August 20, 2020)